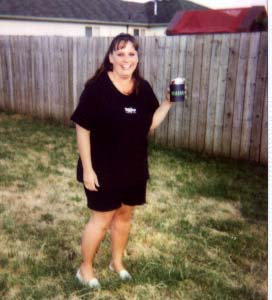 This is a pic of me after losing 52 pounds and Ive lost 73 now.
I will try to get you a new one as soon as I can.
Laura =)AKA: Gyggles

Bob and I have been married for 33 years, parents to 4 and grandparents to
4, both retired RN's. I quit smoking in February and gained an additional
20 pounds to an already hefty body. Two of my girlfriends and I had been
members of WW in the past and we decided to do WW on our own. Our hubbys
joined us rather reluctantly, but have proved to be very enthusiatic and
supportive. We started the WW program on 8/13/01 and had a total loss of 31
#'s the first week. We meet at my home every Monday for the WI, a short
meeting and a covered dish. Not only are the 6 of us getting healthy
together..we are having fun doing it!!!
Proud to be a home_doer.
5 of the 6 hope to lose 50 #'s each. Skinny Steve wants to lose 20. This picture is of myself and my oldest daughter.
Mary (53/Fl/M/4kids/4grans/retired R.N.)
Start Date: 8/13/01
231/227/169
"I tried to contain myself, but somehow, I escaped."




I've been OP for 10 weeks. I've lost around 7 pounds.
Weight loss is slow for me and I've had my share of
ups and downs but I'm not throwing the towel in!!
I live in Columbia, SC and am a full time graduate
student in Counselor Education at the Univesity of
South Carolina. I am getting an Ed.S degree in Family
and Marriage therapy. I have a kitten (she's in the
pic, off to the right) named Jillian. I'm engaged and
will be getting married June 15, 2002.
I just wanted to say thanks for your website. I visit
it often! Joining the listserv is one of the most
motivating things I could I have done for myself.
Thanks in advance,
Wendy King